Here's a list of the most important, and commonly asked, questions that we think will be really helpful as you are preparing to go solar, and make your final decision. 
How Solar Panels Work
Before diving into much else on solar power, it's important to go over some basic information on how solar panels work.
The Photovoltaic Effect
The photovoltaic effect is essentially the process that happens when the sun's radiation is captured or absorbed and then turned into a useable form of energy. Check out our full-length article to learn more in-depth information on photovoltaics and solar energy.
Photovoltaic Solar Panels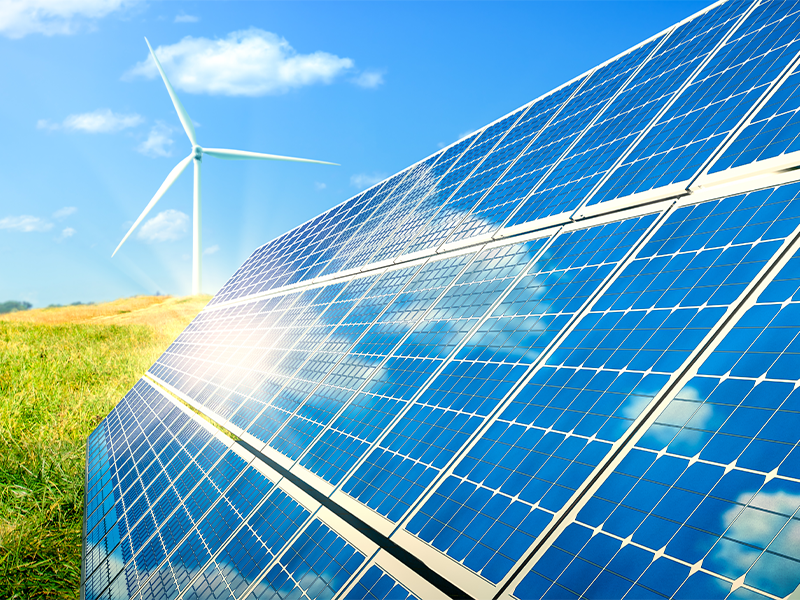 The photovoltaic effect is a fairly complex process, but for this article we're going to keep it very straightforward. A solar panel's job is very simple: it sits on your rooftop and absorbs the energy released by the sun. Photovoltaic solar panels take the sun's radiation and convert it into electricity through a process known as photovoltaics.
That energy is first converted to DC (or direct current) electricity, before going through an inverter that converts the DC electricity into AC (alternating current) electricity. The conversion from DC to AC is very important because AC electricity is the electricity used by homes and businesses.
Surplus Energy
During daylight hours, your solar panels are constantly taking in and storing the sun's energy. The electricity created by your solar panels is what's used in your house. However, there's often a surplus of energy, meaning that your solar panels are capturing and storing more energy than most homes or businesses can use.
This surplus energy can be stored in backup batteries, which are installed along with your solar energy system. That energy will then be available to use during nighttime hours, or if your home or business has increased energy demands. You'll also have the option of putting that surplus energy/electricity back into the power grid.
Solar Panels & Inclement Weather
We mentioned how solar panels are constantly "working" during daylight hours. Bright, direct sunlight is what's going to make your solar panels absorb and create the most usable energy. However, that doesn't mean that your solar panels will all of a sudden stop working on cloudy, snowy, rainy, or shorter winter days.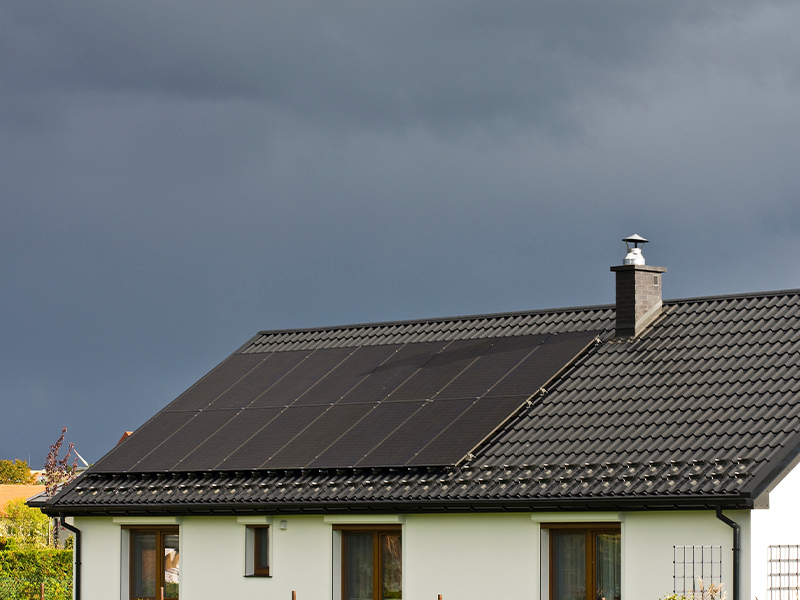 Solar Panels & Clouds
One of the more common questions we're asked is if a solar energy system installation makes sense if you live in a cloudy climate. The answer is absolutely yes! Though solar panels produce the most electricity on sunny days, cloud cover doesn't stop this production. The sun's radiation still penetrates through clouds, as most of us can attest to the sunburns we've gotten on cloudy days.
Your solar panels' energy production will be slightly lower in a cloudy climate than in an ultra-sunny climate. This shouldn't be a deterrent though, because the cost of standard electricity is constantly increasing. Relying on solar power for all of your energy needs, or just some of them, will still end up being cheaper than paying a monthly regular utility bill.
What About Solar Panels & Snow
Snow causes a similar issue to clouds, though it can be a little more problematic. If there's just a light dusting of snow on your solar panels, they'll still be able to absorb the sun's radiation. However, the amount of light reaching the panels will be decreased.
A heavy coating of snow will block the sunlight, but the good solar system installers will set up your rooftop solar system in a way that will almost entirely prevent this issue. Solar panels are typically set up on an angle and that angle is generally steep enough that any snow accumulation will end up sliding off the panels.
Solar Panels at Night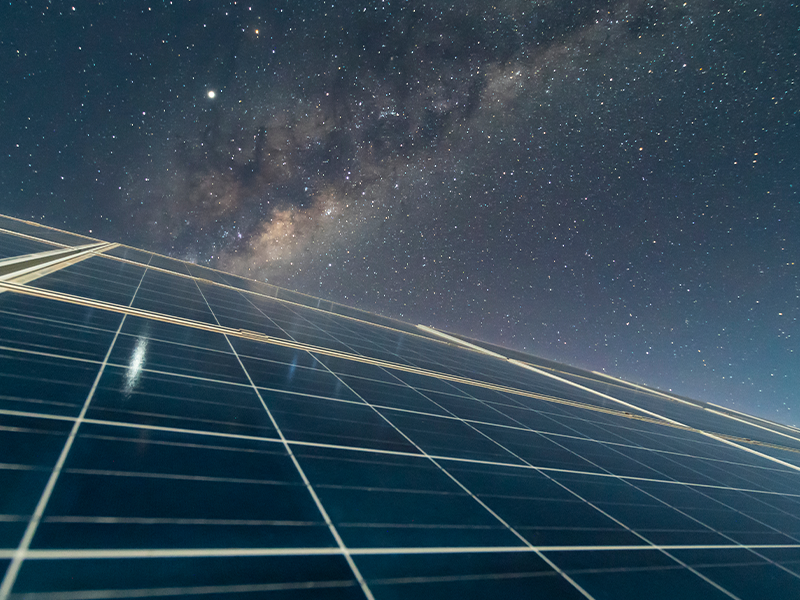 Since the sun doesn't shine at night, your solar energy system won't be producing any energy at that time. However, like we mentioned above, that doesn't mean you'll have to spend your nights in total darkness.
Solar Backup Batteries
When you choose to install a rooftop solar energy system, you'll have the option of purchasing a backup battery system. While a solar backup battery system isn't essential to the functioning of a solar energy system, it will be a huge help.
Basically, what solar backup batteries do is take and store the excess energy created by your solar panels. This means that you'll have accessible power at any time. Backup batteries allow you to go completely off-grid, as well as simply ensuring that the energy doesn't go to waste if it's not used. They also allow you to be less reliant on the power grid, even if you're still grid tied.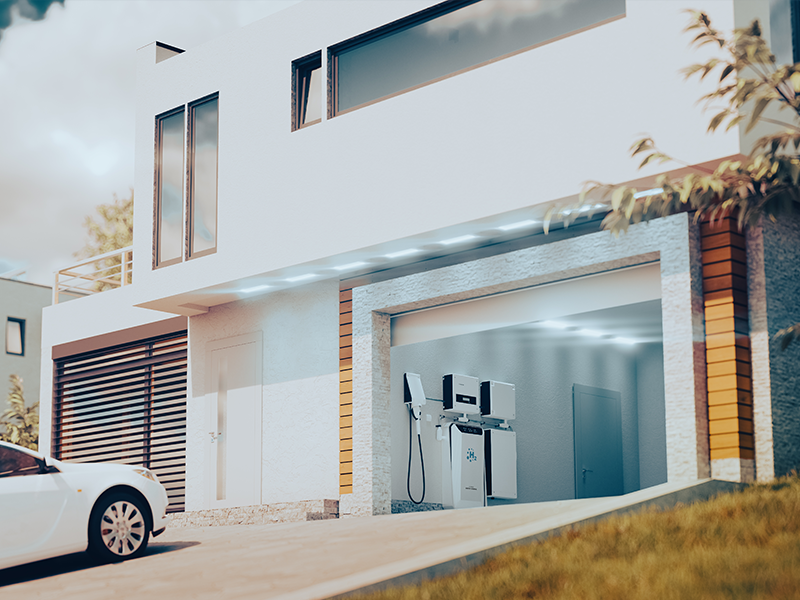 Power Outages and Solar Panels
Power outages, or blackouts, are worth mentioning because, although not a daily occurrence, they still happen. During a power outage, the entire power grid goes down, leaving the majority of homes and businesses without power.
Homes with a solar energy system aren't entirely immune to power outages. If you're completely off-grid, and your solar panels meet all of your power needs, you'll be fine during a blackout.
However, if you're still grid-tied, your solar panels won't work during a blackout. This is because your solar system will be shut off temporarily as a safety measure. That said, if you have a backup battery system, you'll still be able to access that power.
Going Off-Grid vs. Staying Grid-Tied
As solar power gains popularity, more and more people are hearing about it and looking into it as a viable option for energy and electricity. There's a lot of talk about "off-grid" and "grid-tied," but what exactly do those terms mean?
Off-Grid
If you decide that you want to be solely reliant on solar power for all of your home's energy needs, this means that you won't use the power grid for any of your energy consumption. This is called "going off-grid."
Your Electric Bill When You're Off-Grid
When you're off-grid, you won't have to pay monthly electric bills, and you'll be relying on a clean, renewable energy source. However, being off-grid means that you'll want to install a solar backup battery system to ensure you still have access to power and electricity at night and during inclement weather.
Grid-Tied
Having a solar energy system installed doesn't automatically mean that you'll be reliant only on solar power. You can choose to use both solar power and regular, power-grid-supplied electricity. The benefit of this is that you can use power from the grid in cases where your solar panels aren't producing enough electricity to meet your needs.
Your Electric Bill When You're Grid-Tied
Another benefit of being grid-tied is that you'll have the option of sending any excess energy back to the grid. So while you'll still receive a monthly electric bill, it will be reduced for a couple of reasons.
The first is that you won't have used as much power from the grid because your solar panels will have produced some amount of usable power. The second is that the excess energy you sent back to the grid will show up as a credit, or reduction, on your monthly electric bill.
Something worth mentioning here is that if you do choose to remain grid-tied, your solar panels might still end up producing sufficient energy to meet your home's needs. In this case, you'll still get a monthly electric bill, but the amount owed will be $0.
The Benefits of Going Solar
Alright, we've covered some of the basics of solar panels, such as: how they work; how they're affected by different weather conditions; off-grid vs. grid-tied; and how your electric bill can be affected.
Getting a good grasp on the following points will help get you more prepared to make your decision. Let's look further into some more of the big benefits of choosing to go solar.
Solar is Good for the Environment
Solar energy is renewable and clean. As long as the sun continues shining, there will always be solar energy that humans can make use of. Renewable energy is a hot topic today, and it's arguably a very important one, as it has the potential to actually help life on earth.
Humans have used fossil fuels as the primary energy source. Fossil fuels are things like oil, petroleum, natural gas, and coal. All of these are non-renewable, or finite, and are incredibly harmful to the environment. Their use requires burning, which releases harmful greenhouse gases into the atmosphere, and plays a huge part in climate change.
When you use solar energy for some, or all, of your home's energy needs, you'll be reducing your reliance on fossil fuels, which will help to reduce greenhouse gas emissions. You'll also be helping your own health, as fossil fuel burning also releases harmful particles into the air which are big contributors to many health problems.
Going Solar Can Save You Money
Though the initial purchase and installation cost of a solar energy system is pretty big, you'll end up saving money in the long run. Your monthly electric bills will be less, and you won't be subject to the constant increase in electricity rates.
A good starting point when you're trying to calculate potential savings from having a solar energy system is to look at your utility bills and determine the exact amount you're paying for electricity. This will be a good comparison to help predict future savings.
Exactly how much you'll save is going to vary depending on what city and state you live in. This is because the costs of electricity varies greatly around the country. Also, different states have different policies relating to solar energy. We'll go more in depth on that later.
Net Metering
Net metering belongs in the benefits of going solar because it's yet another way that going solar can save you money. Your home's solar energy system will typically produce more electricity than you can use. However, there will also be times when your home's energy needs outweigh your solar system's production ability.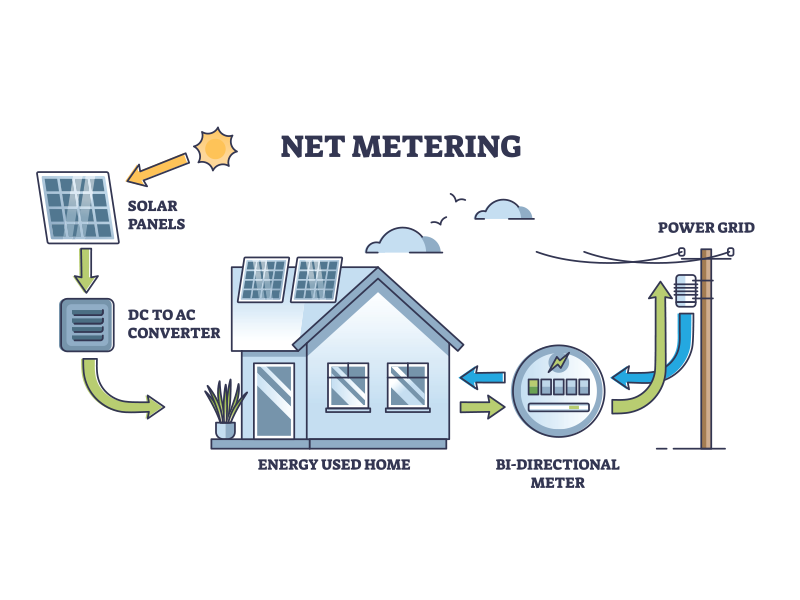 What net metering does is allow solar customers to give any surplus electricity produced by their solar system to the power grid; this electricity can then be used elsewhere. You'll get a credit that will show up as a reduction in your next month's electric bill.
Conversely, during times when your home's energy needs exceed your solar system's electricity production, you'll need to get electricity from the power grid. In these instances, you'll see this usage reflected on your electric bill.
Though the rules surrounding net metering vary from state to state, but each state will set a cap on how much the utility companies will pay you for your electricity, and vice versa. For example, the net metering cap for Virginia residential properties is 20kW.
Increased Home Value
When you purchase a solar energy system for your home, you're not only helping the environment, but you're actually increasing your home's value, should you choose to sell. According to This Old House, a home with a rooftop solar system could sell for $15,000 more than for a completely identical home without a solar energy system.
It's worth noting here that while a home with a solar system will sell for more than a home without a solar system, this sales price increase is dependent on you owning the solar system. If your system is leased, prior to selling your house, you'll need to either buy out your lease or have the lease agreement transferred to the new buyer.
Solar Panels Have a Long Lifespan
You can anticipate most rooftop solar panels on the market being able to generate sufficient electricity for 25-30 years. Their electricity output will gradually decrease over time, but we can't think of any other appliance lasting that long.
Solar Panels Require Little to No Maintenance
In addition to solar panels having an insanely long lifespan, they also require little to no maintenance. Solar panels are durable and are made to withstand all kinds of weather and environmental abuse. The tempered glass they're made of is incredibly tough.
Though they're tough, your solar panels might still need occasional repairs or to replace a part. This shouldn't be a deterrent though because all the reputable solar installers provide exceptional warranties.
Solar Incentives and Rebates
We've already talked about how going solar has financial benefits, both in the short term and the long term. Other significant savings you'll see from going solar come in the form of government incentives and tax rebates, the amount of which will vary from state to state.
The federal government offers the federal solar tax credit which provides significant tax breaks to homeowners who've installed a solar energy system. A 26% tax credit was applied for solar systems installed between 2020-2021, and it was increased to 30% for systems installed between 2022-2032.
Financing Options for Going Solar
There are three ways you can finance going solar. The first option, if you have the cash at hand, is to buy your solar system outright. The second is to take out a loan specific to the purchase of solar energy systems. The third option is to sign what's called a power purchase agreement (PPA), or a solar lease.
EnergySage is one of the leading experts in solar information, and they have a great solar calculator that uses actual data from your city/state, as well as information you provide about your home's roof. Also, it's free to use! Check it out if you want to figure out costs and savings.
Owning vs. Leasing
Neither option is bad, and the answer to this question depends on why you've chosen to go solar. Some people simply want to lower their energy bills in the easiest, most maintenance-free, environmentally friendly way. If this sounds like you, then a solar lease would be a great option.
Other people are looking to do all of the above, in addition to maximizing their long term financial returns. Because solar energy systems are expensive to purchase and install, if you're looking for a long term ROI, then it would make more sense for you to purchase your solar panels.
Solar Loan vs. Solar Lease
This is where the fine print comes in and you need to do your research. Both options allow you to install solar panels without worrying about a huge upfront cost. However, what you need to look at closely are the terms and agreements for solar loans and solar leases.
A solar lease is pretty much like leasing a car, in that you'll make a monthly payment but you won't actually own your solar panels. A solar loan is like a home loan, in that you'll eventually own your solar panels and energy system. When you take out a solar loan, you'll be eligible for more benefits than if you're just leasing your solar system.
But no matter how you choose to go solar (outright purchase, loan, or lease), you'll be helping the environment and decreasing your electric bills.
Secured Solar Loans vs. Unsecured Solar Loans
You can think about these two types of solar loans in terms of risk, both to yourself and to the lender. A secured loan requires you, the borrower, to put a financial asset up as collateral. This asset is typically your home. Obviously, a secured solar loan represents more risk for you, however the interest rates are generally fairly low.
An unsecured solar loan doesn't require any type of collateral, but they come with much higher interest rates. The high interest rates help mitigate the lender's financial risk.
For more information on secured vs. unsecured solar loans, check out this article.
Choosing the Right Solar Loan
Solar loans are offered by national banks, local banks, credit unions, specialty financing companies, and even solar panel manufacturers. There are financing options for everything from the installers to the equipment.
The best loan for you might not work for someone else, so you'll want to compare a lot of different options provided by the different financing institutions.
So, Am I Ready to Go Solar?
While there's no cut and dry answer to this question, it's one that every potential solar customer asks. Here are some questions to ask yourself that can help you decide if you're ready or not.
Money
This is a big one. We've said it a lot, but the purchase and installation of a home solar energy system is not cheap. The equipment itself is expensive, and a good installer will charge a decent amount.
However, like we've also said, that price tag really doesn't need to be a deterant. Thanks to $0-down financing options for going solar (think solar leases and solar loans), if you can pay your electric bill every month, you can swing going solar. So, if you're a homeowner and you have good credit, you can afford to make the switch to solar.
A Suitable Roof
In a perfect world, the ideal roof for a solar panel system would be spacious, face south, and have very little, if any, shade. But since most homes aren't designed with solar panels installation in mind, there are plenty of ways to get around less-than-ideal roof setups.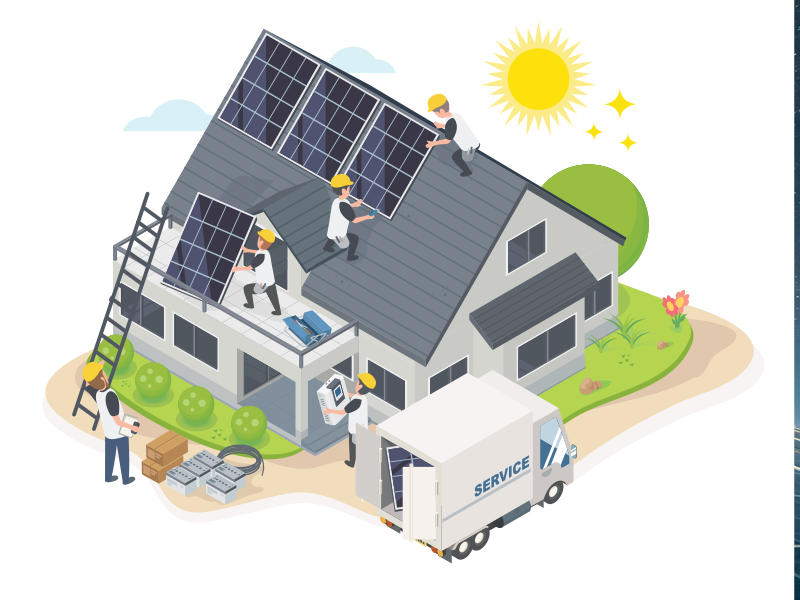 Depending on the size, shape, geographic location and orientation of your roof, the number, size, and type of solar panels you'll need will vary. Check out our full length article that addresses these questions and many more.
What About Replacing My Roof?
If your roof is in good shape and doesn't need any repairs or maintenance, then no, you don't need to replace your roof prior to having your solar panels installed. However, if your roof needs major work, it's best to get that done prior to having your solar system installed.
The main reason for this is that solar panels can last 25-30 years, and it would be less than ideal to have to remove them and then reinstall them in order to replace or repair your roof. So it's best to start with a clean slate, and get your roof inspected by a reputable solar installer prior to a solar installation.
What Determines My Solar System's Size?
This is based on a few factors. The main one is going to depend on your home's monthly electricity usage. The more electricity your home uses, the more solar panels you'll likely need. Likewise if your home has a huge roof, you'll probably need more, larger solar panels.
Let's say you live in a spot with less sun, or your home has a small or strangely shaped roof. If this is the case, you'll want to look into higher efficiency solar panels. These panels can harness and produce huge amounts of electricity without needing a big footprint or constant, intense sunlight.
Types of Solar Panels
Solar panels come in different sizes, styles, and levels of efficiency. However, for simplicity's sake, you can think about solar panels being classified into two types, which are based on their efficiency.
Monocrystalline Solar Panels
Monocrystalline solar panels are the most efficient type of solar panels. Because of their greater efficiency, they do cost more, but you'll probably need less of them to meet your home's energy needs. This type of solar panel is also a good option if you've got a small, strangely shaped, or not-ideally placed roof.
Polycrystalline Solar Panels
Polycrystalline solar panels are less efficient than monocrystalline solar panels, but they're cheaper to purchase and install.
Solar Panel Classification
We already said that there are two types of solar panels: monocrystalline solar panels and polycrystalline solar panels.
Now, let's go a little more in depth. EnergySage has a solar panel classification, or ranking system. The panels are ranked as: poor, fair, good, very good, and excellent. The solar panel industry strictly monitors and tracks solar panel quality and performance, and customers can easily access this information. This should all be part of your solar panel research.
Power Inverters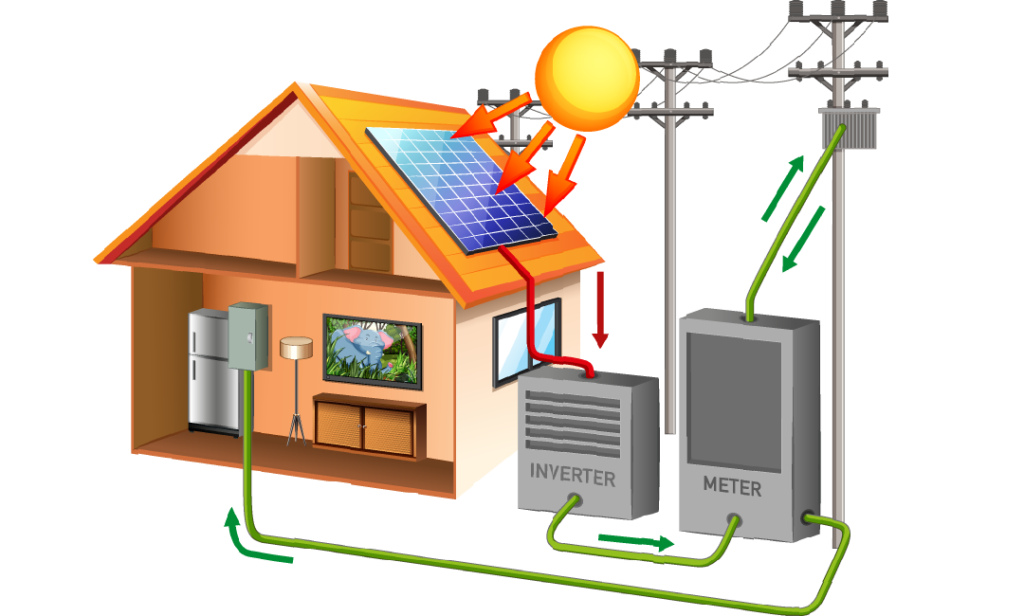 Power inverters are essential parts of solar panels. The solar energy collected by your solar panels isn't immediately usable. Something needs to convert it into a usable form of electricity. That's where power inverters come in. There are three different types of power inverters to choose from.
String Inverters
String inverters are standard issue power inverters. There is one central inverter that's tied to all of your solar panels. They're the least expensive and they work best if your roof is ideally situated, and without anything blocking it from the sun.
Microinverters
Microinverters are built into each solar panel. This allows your solar panels to essentially function individually and independently of one another. If one panel isn't performing well, it won't negatively affect the rest of the panels. Microinverters cost more than string inverters.
Power Optimizer
Power optimizers, similar to microinverters, are in each solar panel. These take the electric current, "optimize" it, then send it to a central inverter. Their cost is somewhere in between string inverters and microinverters.
Solar Monitoring Systems
A solar monitoring system isn't a necessity. However, the benefit of a solar monitoring system is that you'll be able to track, in detail, the amount of energy produced by your solar energy system.
If you've purchased your solar panels outright, you'll need to pay for a solar monitoring system. But if you have a solar lease agreement, a monitoring system is often included for free.
Comparing Quotes and Choosing an Installer
As with any big decision, you'll likely have a lot of information to sift through and choices to make. Choosing the right installer for your solar energy system is an important one. You'll want to make sure their company is reputable, has good equipment, provides good warranties, and is highly experienced, as well as being licensed and insured.
The same goes for sifting through the various solar system installation quotes you'll receive. Quotes will vary depending on where you live and what companies you're getting the quotes from. Again, EnergySage's solar marketplace is a great resource to help you get the best quote and not become overwhelmed by information overload.
What Can I Expect From the Solar Installation Process?
We've already mentioned the importance and necessity of finding a good installer and getting multiple quotes. This will guarantee that you're going to get a solar system that will not only meet your needs, but will fit your budget and be expertly installed.
After you've selected your installer, the right equipment, and made a plan for financing, you'll be ready for installation. At this point, the installer will come to your house and do a thorough inspection of your property. This will include the house's roof size, shape, orientation, and any possible issues that might be present or arise at some point in the future.
After the inspection of your property and roof, your installer will file a bunch of paperwork to make sure that your solar system installation will be approved. Sometimes the approval process can take awhile, but the actual installation of the solar panels and system is quick, usually two days at most.
Shared Solar
Shared solar is also known as community solar. When most people think of going solar, they're envisioning a rooftop solar panel system on their house. However, there's another option that isn't as well-known, and this is the community solar project.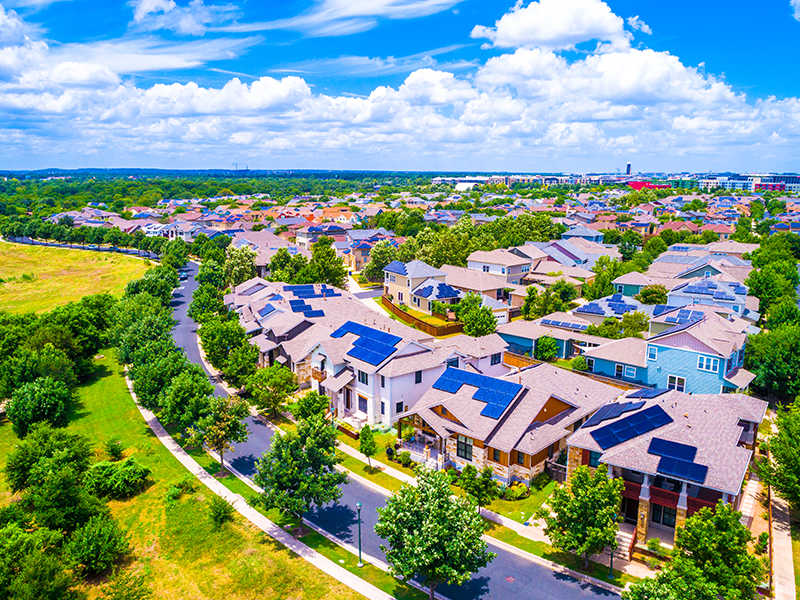 Community Solar Projects
Instead of the solar panels being installed on your roof, the solar panels in a community solar project are set up somewhere else in your neighborhood or community. Just like with a home, rooftop solar system, community solar projects will also save you money on your electric bill.
Community Solar Saves You Money
Community solar projects are such a great way to save money because they allow you to reap the benefits of solar energy without having to make the large initial investment of purchasing and installing a home solar system.
Community Solar vs. Rooftop Solar
A good way to think about the difference between a community solar project and a home rooftop solar installation, is that with a community solar project, you're paying for a portion of the solar energy that's distributed throughout a community.
Ownership vs. Subscription
Community solar projects offer ownership options or subscription-based options. When you go with the ownership route, you're making an initial investment, after which you'll fairly quickly start to see savings. Subscription-based involvement means that your savings will be spread out over a period of time.
What Will My Electric Bill Look Like with Community Solar?
First off, when you're part of a community solar project, your part of your share or subscription is paid directly to your community solar provider.
Second, remember net metering? When you subscribe to a community solar project, or own a share of it, your utility bill will show what's called a virtual net metering credit. Since electricity usage is measured in kilowatt-hours (kWh), one credit will be equal to one kWh.
This means that if your home uses 1,000 kWh/month, but your community solar share only produces 800 kWh, your electric bill will say that you owe money for the difference, which would be 200 kWh.
Moving or Cancelling With a Community Solar Project
In the event that you have to move to a new home, and you're part of a community solar project, so long as your new house is in the same service area, you'll be able to keep your solar share. However, if you move outside of the service area, then you'll have to either transfer your subscription, cancel it (for a fee), or sell it (if you own it).