There are so many uses of solar energy, that it would take a month to fully describe them all in detail. Though the list of solar energy's uses is almost endless, the most common ways in which we see solar energy used are in residential settings and in large-scale industrial settings.
What is Solar Energy?
What is solar energy? Before diving into all the uses of solar energy, let's do a quick rundown on what solar energy is.
The sun gives off radiation resulting from a process called nuclear fusion that's constantly going on inside its core. Nuclear fusion creates unimaginable amounts of heat, and therefore energy. The heat and energy from the sun reach the earth's surface and plays a big part in the life and survival of virtually all organisms on earth.
In addition to being a source of life for most things on earth, solar energy/heat is renewable. This means that it's a viable source of energy not only for plants and animals, but for human use as well.
This is really important because the other energy sources accessible to humans are not renewable, and additionally are big culprits of pollution and the dangerous warming trends we're seeing today.
Solar Energy vs. Fossil Fuels
So we know that the energy given off by the sun is plentiful and renewable. It's also completely clean, as its release and use don't involve burning and the harmful emission of greenhouse gases.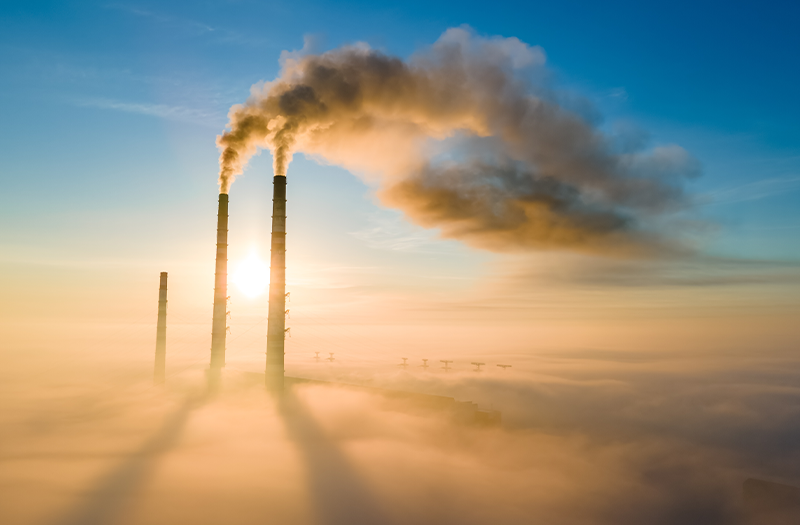 Fossil Fuels
Fossil fuels are the other commonly used source of energy. Fossil fuels like coal, oil, and petroleum are fairly plentiful, as they're just under the earth's surface. However, the major issue with fossil fuels is that, although plentiful, they are finite, meaning they're running out and we can't replace them.
Fossil fuels are considered finite and non-renewable because the rate at which they're produced is far slower than any human can imagine or recreate. This is because fossil fuels are the result of the breakdown and decay of ancient plants that as they broke down, were pressed down under the earth's surface.
The other major issue with fossil fuels and their use is that in order to access them, we have to dig into the earth's surface. So not only is that digging causing damage to the earth, it also requires heavy machinery to do the digging. The heavy machinery uses coal, oil, or gas in order to run, which in turn is releasing fumes and greenhouse gases into the environment.
Also, as the fossil fuels are used, they're being burned or otherwise heated. This process, just like the use of heavy machinery, releases harmful gases into the environment. All of these gases released by the use of fossil fuels are contributing to the deleterious processes of climate change and global warming.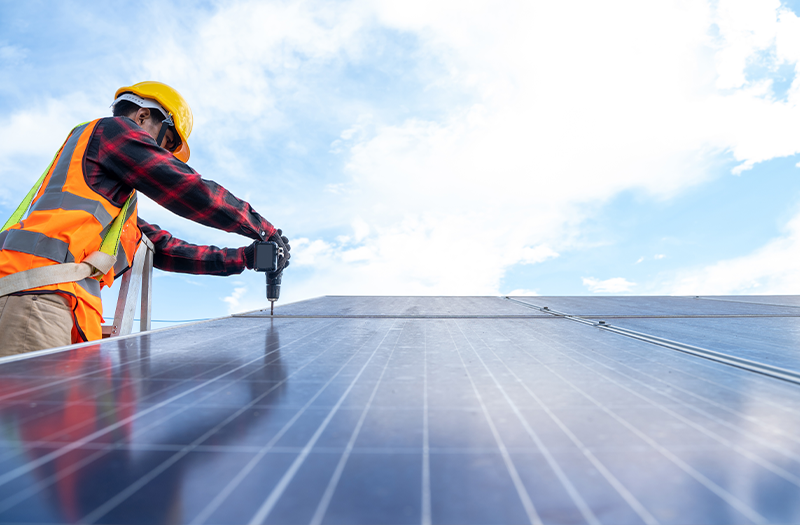 Solar Energy
Like we've mentioned, solar energy is clean, plentiful, and renewable. In fact, in just one hour, the sun gives off more energy (that releases earth) than all human beings in the world could use in a year. Just knowing the sheer amount of energy the sun gives off is stunning.
Types of Solar Energy
The sun can be used as an endless source of renewable clean energy. Solar energy is what is produced when sunlight is captured and used to create solar power. Simply put, there are two main types of technologies that make use of solar energy.
Solar Photovoltaics
The solar energy used for electricity is transformed into such energy by a process called solar photovoltaics. We see solar photovoltaics producing electricity for homes, businesses, and really any type of building, etc. that requires energy.
Concentrated Solar Power (CSP)
Solar energy is also seen in the form of concentrated solar power (CSP), that allows for solar water heating (and cooling). passive solar design, which is used to heat and cool spaces, whether they are homes, offices, power plants, etc. Solar energy is also used to heat water through a process called solar water heating.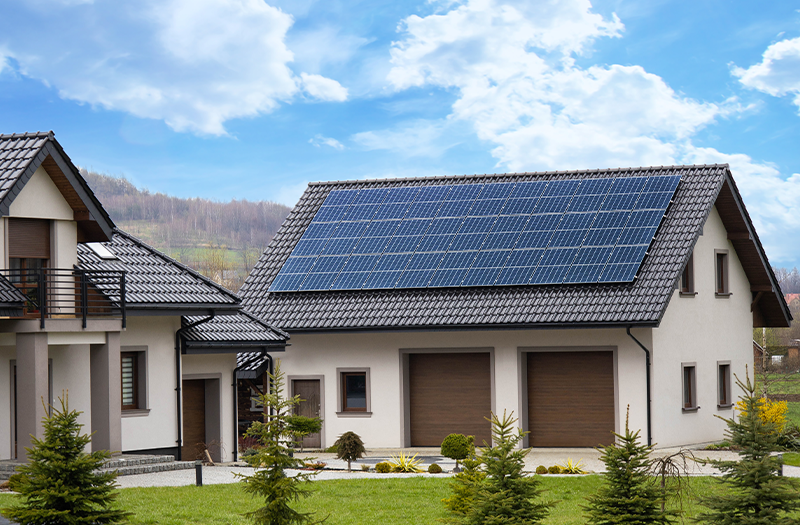 Solar Panels
It's important to give a quick rundown on solar panels right now. We mentioned solar photovoltaics and how that process is what produces electricity for homes, businesses, etc.
But how does solar photovoltaics work and how does that process take the solar energy and convert it into a usable form?
The answer is: solar panels. You already know that the sun provides an infinite form of energy and power. Solar panels fit into the picture like this: they take the sun's energy and convert that energy into an electrical current, or electricity.
That electricity that's produced by your solar panels is then sent throughout your home or business. It's important to mention here that the electricity that's going throughout your home is in the form of an alternating current (AC). To get a way more in depth explanation on solar panels and how they work, check out our full length article on solar panels.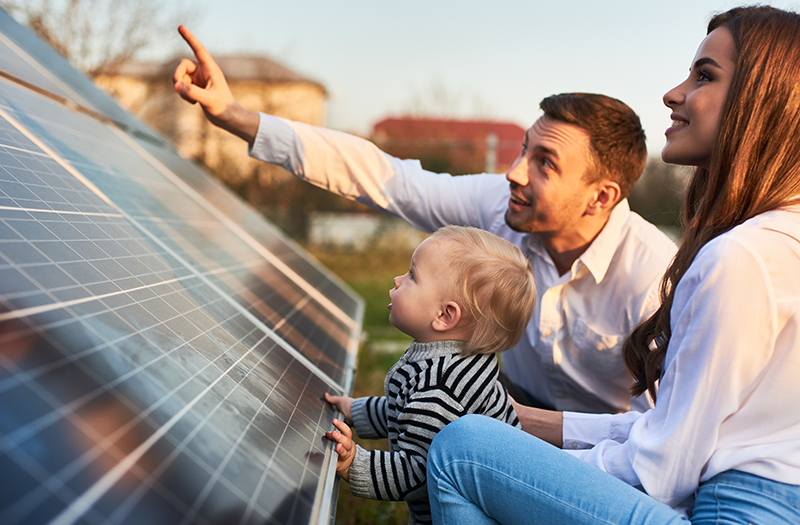 Solar Energy for Residential & Commercial Setups
Before diving fully into some of the many uses of solar energy, it's really important to mention that solar power is something useful in both residential and commercial settings.
Because each home, office, warehouse, etc. is different, clients often wonder how they will get the solar setup that is most closely tailored to their individual needs.
Convert Solar is Virginia Beach's premier solar installation company, and we take huge pride in providing our customers with completely custom made solar power setups, regardless if it's a solar system for your residence or your business.
We'll describe a lot more uses of solar energy in much more depth below, so keep reading!
Uses of Solar Energy For Households & Properties
Solar energy is fast becoming one of the most popular ways to power your home, property, and appliances within it. Whether you've decided to go fully solar or are just dabbling in it to start, here's a list of some of the most common uses of solar energy that we might see in households, yards, etc. around the world today.
It ranges from using solar to power solar vehicles, to solar wearable technology, and even solar home lighting or irrigation.
Solar Electricity
The way we see solar electricity used is in the form of photovoltaics. This is a process happening in the solar panels that people have installed on their rooves. The cost of solar panels and their installation is gradually being reduced, meaning that this form of solar energy is becoming more accessible to more people around the world.
Solar Batteries and Generators
Solar batteries and generators are essential items if you've made the decision to go completely off-grid. They're also essential even if you're remaining grid-tied and using solar energy only occasionally or when the grid goes down.
Like we touched on above, solar batteries and generators are seen in many cases, some of which being if the power grid goes down, if there's a winter storm that affects your home, or simply just at night when your rooftop solar panels aren't harnessing and generating solar energy and power.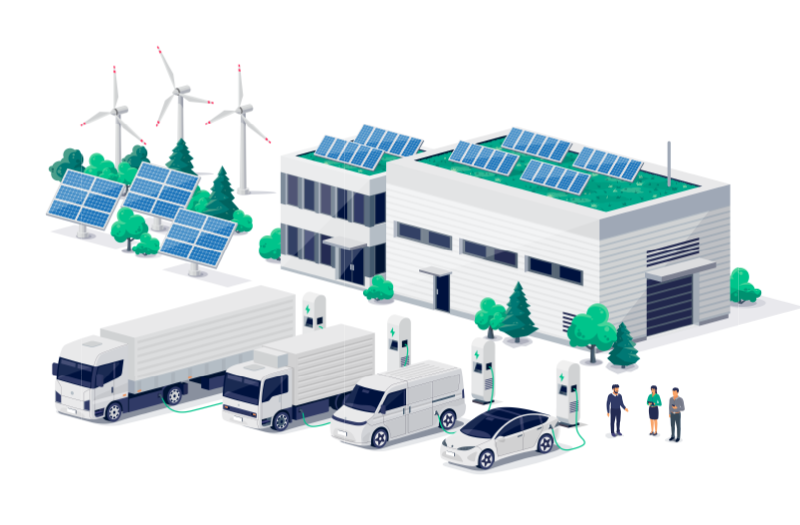 Solar backup batteries are often seen installed alongside rooftop solar panels. These are large, expensive systems, but they play a key role in a home solar system. Solar backup batteries store the excess solar energy from the sun that's captured by your solar panels. You can then access this energy at night, or in cases of power outages.
Solar generators operate on much the same process that solar batteries do. Generators, both solar and non-solar, function as power sources. These power sources (generators) are often seen in areas that experience frequent poor weather, power outages, or that are far removed from town.
Generators are typically powered by fossil fuels, so the rise of solar powered generators is extra special and cool. Not only does this reduce, yet again, our reliance on harmful fossil fuels, it proves that the sun can really power just about anything!
Solar Powered Ventilation Fans
We just discussed solar powered batteries and solar powered generators. Those can be used to power a home, but solar powered ventilation fans are really neat because these can be used to cool a room in a home or an entire outbuilding, or at the very least reduce your costs associated with cooling.
Ventilation fans work by rerouting the hot air out of a room (like from the attic) and moving it outside so that the room can then be cooled. Ventilation fans are typically powered by standard electricity.
However, as with so many other solar technologies and gadgets, cooling has also entered the solar view. Now if you opt to have a ventilation fan, or ten, in your house, you'll find that your vent fans can operate from solar power. They come in small units that you can mount on the roof of whatever room you want to cool, and you can feel good knowing that you're cooling your room and reducing your reliance on standard electricity.
Solar Powered Water Heaters
These are split into two categories: passive water heaters and active water heaters. Heating water isn't a cheap process, regardless of what system you choose to go with for water heating. However, solar powered water heaters offer a cheaper, even more cost effective, approach to heating water.
Once you decide to go with a solar powered water heater, you can choose to use active solar heating or passive heating. These methods are fairly self-explanatory.
Active heating uses a solar powered pump (that of course uses solar energy) and actively circulates either the hot water, or a substance like glycol, throughout the whole system. This warms the water to a certain temperature. While this system is very efficient and effective, it's typically not cheap, since any use and production of enough energy to heat water isn't cheap.
Passive heating uses the principle that heat rises. So this process doesn't require any direct use of energy, electricity, etc. It instead uses solar energy and a solar collection tank. The water sits above the collector and so, via solar energy, the heat generated by the collector, is passed passively up to the water above it.
Passive heating is significantly cheaper than active water heating, but it's not as efficient, and is used in climates that rarely see sub-freezing temperatures.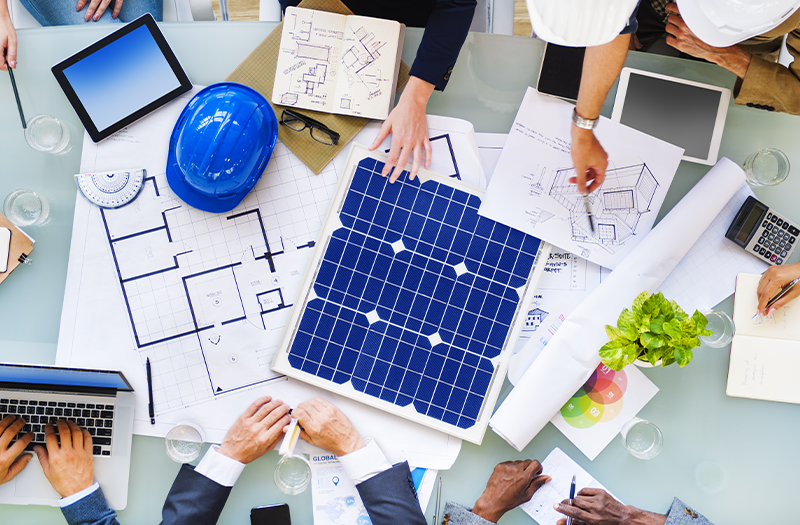 Solar Heaters for Pools and Hot Tubs
Solar heaters for your pool and hot tub are in a similar category as solar powered ventilation fans. This is because, although totally opposite from a vent fan (which cools a space), solar powered heaters can reduce your reliance on costly electricity used to heat water.
Standard water heaters aren't cheap. This is because, regardless if you're using glycol or just plain hot water, you're putting a big drain on your electric power source. Water is dense and therefore takes quite a bit of energy to heat. This is especially true of things like pools or hot tubs, where you've got many thousands of gallons of water to heat and keep hot.
If you opt to go solar for your pool/hot tub heating, you can use an actual solar water heater that will circulate warm water throughout the pool or tub. Or you can use this thing called a "solar blanket." These are awesome because you essentially are putting a hot blanket on top of your pool. The blanket traps solar energy and then uses it to warm the water underneath. This keeps your pool a comfortable temperature and saves you money at the same time.
Solar House Heaters & Pumps
These are essentially in the same category as solar hot water heaters and solar powered ventilation fans. Instead of just heating hot water, or cooling a small space, solar house heaters and solar pumps are used to heat or cool entire homes.
A solar powered house heater or pump is used to warm your house by circulating hot water through the system. This reduces your reliance on expensive forms of electricity.
Solar Lighting
We see solar energy being used to create solar powered lighting coming in a few different forms. There's solar landscape lighting for the garden; solar lighting for Christmas trees and other holiday lights; solar powered security lights for the exterior of your home; and any kind of solar powered lighting for the inside of your home.
Solar Powered Appliances
This is a really cool category for solar energy use. Prior to solar energy being used to power household appliances, we always had to use standard power and electricity for these.
Now, as solar energy becomes more popular, accessible, and affordable, we're seeing solar energy used to power our common household appliances like ovens, microwaves, refrigerators, etc.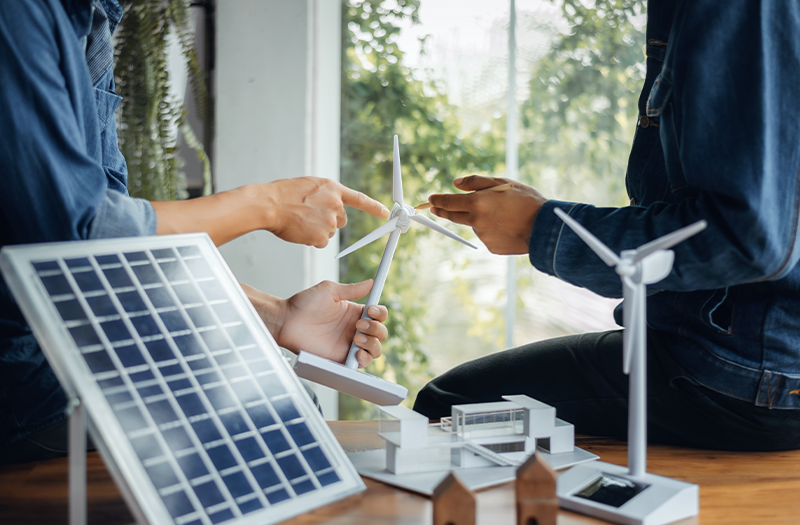 In addition to providing power to these large appliances, we can also use solar energy to power things like: solar Bluetooth speakers; solar calculators; solar wireless keyboards; solar flashlights; lanterns; and other kinds of emergency lighting (like in case you have a power outage or something similar that renders the grid unusable).
We're giving this one its own paragraph because solar energy can also be used for solar battery chargers. This is a really cool one because, like we mentioned, sometimes the power grid goes down. What then? If you've got some solar battery chargers, you can power your lights, flashlights, watches, even keyboards or phones.
Wearable Solar Technology
This category needs to follow the appliances category simply because there's some crossover between solar powered appliances and wearables. Another cool fact worth mentioning with solar powered wearable items is how solar power and energy are being developed and improved and changed just as rapidly as other forms of technology.
Simply because solar energy is clean, doesn't mean it's immune to rapid improvement that we see in fossil-fuel-powered technologies and advancements.
We already mentioned solar powered watches and solar powered Bluetooth items. Not only can Bluetooth speakers be solar powered, but your Bluetooth headphones, headsets, and earbuds can be solar powered as well.
Headphones and earbuds are the typical things we think of when we think of wearable items, but (and here's where we can really see just how far reaching solar power is!) other items that can be solar powered are: bike helmets, backpacks, and even other textiles!
Solar Powered Yard & Garden Items
Remember how we said the uses of solar energy are pretty much limitless? Well, here are some more uses that are so simple, yet so revolutionary!
Most of us love having some kind of small garden if we've got the space. We can plant flowers, trees, edible herbs, fruits, etc. And what garden doesn't look even better with pretty decorations?! Not to mention that anyone who spends any amount of time outside can appreciate any help in any form out there.
You can get solar powered garden decorations; solar powered bird feeders; solar powered water fountains of various sizes; and even solar powered irrigation systems and controllers.
Solar Powered Public Transportation
We've covered a lot of uses of solar energy in this article. One of the most innovative and important is in the field of transportation, and specifically public transportation.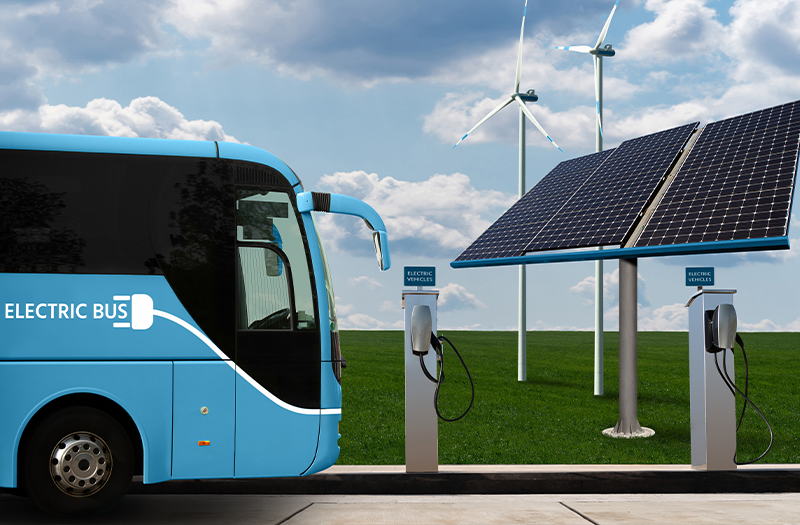 Reliable and accessible public transportation is a hot button topic. Some countries and cities are way ahead others when it comes to public transport, though most people will agree that having a reliable and accessible system is imperative for ease of life, moving about, and also for helping clean up the environment.
Although solar powered vehicles are slower to gain in popularity and accessibility than solar powered wearable technology, we're seeing some amazing advancements in the transport sector.
Solar energy is allowing us to see the development of "a variety of products [that] have been developed for public spaces". Some of these include solar bus shelters, solar buses, solar benches, and solar streetlights.
Not only do these innovations bring solar energy to a much broader spectrum of the human population, but it also allows us to clean up public transportation by reducing fossil fuel use and greenhouse gas emissions. This is huge!
Solar Powered Electric Vehicles & Charging
The idea of solar powered vehicles and electric vehicle charging stations isn't quite new, so much as hard to access for most people. This is primarily due to the high cost of such vehicles and charging stations.
However, these vehicles and accompanying charging stations are proving to be revolutionary and essential when it comes to reducing fossil fuel use and emissions. It's common knowledge that cars, trucks, buses, and all fossil fuel-reliant vehicles are some of the biggest contributors to pollution and global warming.
Anything we can do to help clean up the environment is going to be helpful in the long-term, and it's no surprise that solar energy and power can help us in the transportation realm.